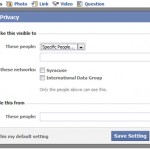 1. Facebook Privacy Settings for Individual Status Updates
There may be instances when you don't want to share a status update with all of your Facebook friends. If that's the case, restricting access to a handful of friends—or allowing only a few friends to view that update—is easy.
After you type your status update, click the drop-down menu next to the lock. Choose "Customize," then add people to the "Hide this from" list to block individuals. Or, click the drop-down menu under "Make this visible to" and grant specific friends access to the update.
2. Sign Out of Facebook Remotely
If you forget to log out of Facebook at the office or at a friend's house, don't worry. From "Account" choose "Account Settings," then "Account Security." Here, you can choose to be notified via SMS or email if a new computer or mobile device logs into your account.
Another valuable feature: You can also view the latest activity, including the time, location and device that accessed your account. If any of these locations seem suspicious, you can choose "end activity" to log out of them.
3. Hide Your Recent Facebook Activity
Two ways exist to hide your recent activity on your profile. To hide select posts, such as a particular comment you left on a friend's wall, hover above the post until the X button appears. Click on it and select "Remove Post" to delete that post from your feed.
To hide all posts that display wall conversations, choose "Hide all Wall post activity." You can do this for other activities, too, including friend confirmations, photo comments and items you have liked.
4. Enable HTTPS Browsing on Facebook.com
In the past, Facebook used HTTPS only when you entered your password. The feature is available on the whole site now and is strongly recommended if you frequently use public computers or access points at coffee shops, airports or libraries.
To enable this security feature, visit your Account Settings page, and then choose "change" next to Account Security. Click the box next to "Browse Facebook on a secure connection (https) whenever possible." (Note: Encrypted pages take longer to load in this mode and not all third-party apps support https at this time.)
5. Shorten Facebook Status Tags
Facebook now lets users shorten the names of the people you tag, so, for example, you can only use a first name. To do this, type the person's name, select your friend, and once the name is highlighted in blue, hit the backspace button. This will begin deleting the person's last name—a handy trick if you're tagging a couple with the same last name.
6. Clean Up Your Facebook News Feed
Too much noise in your News Feed? If app updates or a particular friend is over-sharing, hover above the post, click the X and select whether you want to hide the app or updates from that friend.
To view the applications you've hidden, or to unhide an application, switch to the "Top News" view of your News Feed. Scroll to the bottom and choose "Edit Options." You'll see which applications you've hidden, and can click the X to restore an app or a friend's updates.
7. Use One-Time Passwords to Access Facebook
Using Facebook on the go in hotels, cafes or airports can jeopardize your account's security. To shore up security, use one-time passwords.
To receive your one-time password, text "otp" to 32665 (FBOOK) on your mobile phone and you'll receive a password that can be used only once and expires in 20 minutes. This feature is only available in the U.S.
8. View All Friends' Facebook Updates in Your News Feed
You may notice that stories from the same group of friends appear in your News Feed more frequently than others. That's because Facebook determines who you interact with most often, then displays updates from those Friends in your News Feed, unless you change the setting.
To view updates from all your Facebook friends, scroll to the bottom of your News Feed under the "Most Recent" view, then click "Edit Options." At the top, select "All your friends and pages" instead of "Friends and pages you interact with the most."
9. Control App Access to Your Facebook Data
Facebook's Application dashboard has a number of options to help you view which apps you're using, control what info the apps can access and remove apps you no longer want.
To access these options, click "Account" then "Privacy Settings," then choose "Edit your settings" under Applications and Websites at the bottom. Then, next to "Applications you use," choose "Edit Settings" and remove or edit the options for your various apps.
10. Enable Advanced Login Approvals
Facebook's "Login Approvals" is optional, but recommended for all Facebook users. If you activate this setting, you'll be required to enter a code that Facebook sends to your mobile phone via text message whenever you log in to the site from a new device. If Facebook sees a login attempt from a device that you haven't saved, you'll be notified the next time you log in.
To enable this option, visit "Account Settings" then click "Account Security" and choose "Edit." Scroll down to "Login Approvals" and click the box to enable it.