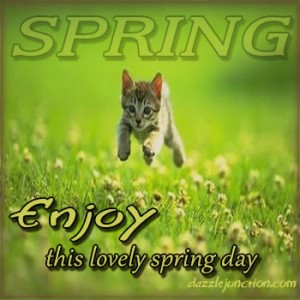 We did have good winter season this year. We don't have a lot of snow like we had before but only it is really cold as always. Are you ready and excited for spring season? Aren't we glad that we have four seasons in Michigan? Winter season is almost over and of course we are all excited for the coming spring season. We can get outside without the freaking cold and a jacket or coat. Snow will be melt and gone. Cold weather will start to die down.
We will starting to have green atmosphere during this season. What I love during spring time that we can plant, play, walk, bike and do activities outside our house this time of a year. Isn't it nice that we can see beautiful flowers, birds nesting and trees this spring season? We can feel the hit of the sun and feel the nice breeze of the air again. We just have to wait for two more weeks and spring time will be here before we know it.
Spring begins March 20 and ends June 19 of this year 2012.  We can start planning our outside chores and activities this spring and summer time. If you plan to have vacation with your family or getaway during nice weather you can start your plan and ideas now. We all love spring time because this is one of the four temperate seasons of the year and this is a transition between winter and summer.
Spring time reminds and refers us to a season of re-growth, rebirth and renewal. Everything grows back to life such flowers, trees and plants that die during fall and winter or cold season. You can start getting out your spring attire or outfit and enjoy your spring time season this year.  Hope you have enjoyable and productive spring season everyone.