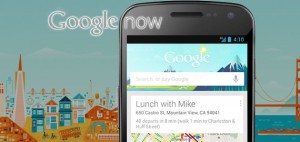 Many people like to travel during summer time and nowadays you can easily check what the events on the place you visit or stay for the night, day or week. Let your phone find fun stuff to do nearby. Google Now – Instant updates on stuff happening around you. Whether you're at home or traveling, Google Now will show upcoming events, like concerts, comedy shows or the county fair, that you might be interested in. This will be set up for only 30 seconds and works on Android and iOS.
* You can get started through Google Now and is available within Google Search app on Android 4.1+ and iOS 5.0+
* This apps will gives you the right information at just the right time, like nearby events to check out.
* Easy to get started just open the Google Search app. If you don't have it, download it.
* Then, if you see a welcome screen, choose, "Yes, I'm in." You may be asked to sign in.
* Follow the next instruction which is to scroll down to the bottom of the page. Touch the menu icon (the three dots in the right corner}.
* Choose or Select "Settings."
* You need to make sure "Google Now" is turned on.
And you're set! Just open the Google Search app and scroll down to see the "Nearby events" and that's it. With the technology we have today we don't have to worry anymore what we are going to do or where to go, it is much easier than ever before.