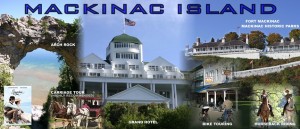 We just get back from our little getaway in Mackinac Island here in Michigan before autumn or fall will be here. It was my first time to be in this island and it was great and beautiful to be for a vacation. I wish we have the budget to spend more time in that place. We did have good time and it was fun that we have a little getaway.
We did not stay in the island, the hotel is quiet expensive we could not afford and don't have the budget for it. We just stay in Mackinaw City were the hotel price is affordable and we got to see the Mackinac Bridge right in our window in where we stay at a cheaper price. We did have nice and clean room and we have patio that overlooking the lake and the Mackinaw Bridge.
We did have little rain the first day we arrived there but we still manage to take some beautiful pictures and to check on places out there. We did ride the boat going to Mackinac Island the following morning and it was another great experience again for me. How lucky I am to visit those beautiful places here in America.
What I like about the island is they don't have traffic like we have the city, no cars out there. They only have bikes and horses for transportation or just walk through the island. Also, they very good fudge out there, we did bought fudge and oh! It was delicious. Mackinac Island is great place for vacation. I would suggest that it is better to visit there during summer time to enjoy more of the place.
We did enjoy our visit but only it is already cold out there. I have heard that the Mackinac Island is pack during summer time. You get to enjoy the water or the beach more during summer time. So if you are planning to have an enjoyable vacation and great place to be, you should consider Mackinac Island.