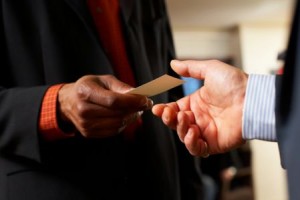 One way to market your business is you need spread the word that you have business. One way to spread is by word of mouth or by advertising and then you need business card also so that they will know what business do you have and how they can contact you.  The business  card is more than a piece of cardboard with bits of information printed on it. It is a window of opportunity, a uniquely placed marketing tool that can garner enormous benefits for your business.
In difficult economic times, one of the most important steps that a business must take is to ensure that it makes a good first impression on prospective patrons. More often than not, the nature of that first impression is influenced considerably by how much thought was given towards the design of the business cards. At the most basic level, a business card conveys information about your company in a format that is convenient to use.
However, the business card can also be used to achieve much more than that. They can be considered an inexpensive, yet highly effective means of marketing your business. If you can ensure that you have an attention-grabbing business card with up-to-date information about the important aspects of your business, then you go a long way towards establishing your business in a favorable light with your clients and customers.
Of course, before you can decide exactly how to design a business card, you must decide upon the specific information that the card will be designed around. And while you can feel free to include any information that you feel is relevant, keep in mind that certain facts should not be omitted. These are important things that need to be in your business card.
*  Don't forget the name and position of the card holder.
* You should remember to put the company name, logo, and slogan (if it has one) this is one of the vital thing in your business card.
* It also need your contact information, including street addresses, telephone numbers, fax number, website and email address so that  they can contact you right away if they need your service or business.
We need  to know and remember that the aesthetic form of the business card should complement the information that it contains. There are many ways in which this overall harmony of design can be achieved. Remember that you have open to you a wide range of options regarding every aspect of your business card's design, and that it would be wise not to discount the opportunity that differentiate your cards by combining striking visual elements. For instance, the colors of you business card can be chosen to balance the colors in your company's logo.
Furthermore, both sides of the business card can be used in order to convey information, or to simply highlight the design of the card. The reverse of the card is often used to convey information about the businesses products or services. Hope this idea might help you and give you idea on how to make a business card.