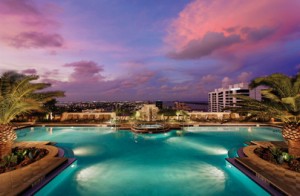 So have you dreamed about moving to the sunshine state of Florida? Have you ever thought about purchasing a vacation home or condo so you had a place to go on vacations and when you retire? Well now your dream can be a reality in this state of the art Palm Beach Florida condo facility. With the purchase of a condo at the Two City Plaza you will be provided with a great panoramic view of West Palm Beach, the ocean, and the intracoastal waterway. Within the luxury corridor of West Palm Beach you can enjoy the high life and convenience of be located right in the heart of everything you have always wanted.
You can also enjoy yourself daily or entertain your guest and impress them with the rooftop resort pool, sauna and the steam room day or night. Within Two City Plaza you will be able to take in the beauty of the outdoor gardens that are located on the fifth floor, the casual yet elegant club room or private theater. Or if you are in the mood to exercise you can make use of their state of the art fitness center or massage and treatment rooms.
This newly constructed 21 story condominium was built with the buyer in mind, both by the price and by all the amenities that are included. It is much like living in a tropical resort that would cost you much more than most of us can afford, but here at Two City Plaza you actually own a piece of it just like you would own a house. For more information you can follow one of the links above or contact CityStyle Realty, LLC to find out what condo units are still available and to make an appointment to view these luxury condo's that are at a affordable price just waiting for you.