Summer time is the best time to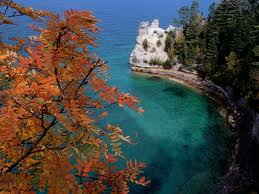 travel and enjoy the warm weather in the United States of America. I was delighted reading about the 7 percent increasing number or percentage of the tourist to the country. I am feeling proud seeing the pictures of the Rocks National Lake-shore Michigan which is reported to be one of the beautiful attractions in U.S. destinations.
Michigan is the birth place of my husband and I feel proud knowing about it. If you are planning to visit USA don't forget to visit Michigan. We have lots of beautiful scenery and tourist attractions and that for sure you would love to see and enjoy your travel or vacation to the country. Also, if you are from different state here in the US and never been to Michigan plan to visit and enjoy the beautiful Michigan state.
Only in the first six months in this year 2013 as a new data comes from the US International Trade Administration reportedly that international visitor to the United States spent an estimated $87.1 billion from the same period in 2012, these quiet impressive figures and it also shows the record that they have reach 67 million reported that made trip of last year 2012. President Obama's goal is to increase and attract more visitors and tourist per year and they have calculated to reach 100 million international tourists per year by 2021.
In order to meet those goals they have to implement and effective tourism strategy by improving the processing of visa and make it safer and more efficient to travel in the country. Each US state has each distinctive identity but with common hospitality to welcome them to the country and entertain them nicely all the foreign visitors that will visit United States of America.