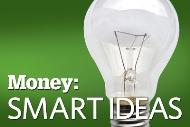 Smart ideas will really help you succeed. I am a little jealous to this people that they have creative mind and smart ideas. A smart idea is a talent that is good to have and you are lucky if you have this ability. Most of the successful people they have smart ideas that bring them to the top over others. I know we all have ideas but not to the same extent or great as others but we can still have chance to develop through learning and researching.
I'd like to watch the TV show called Shark because through this show I can see different people that have different talent and that have smart and creative ideas. But the only problem they have is that they don't have finances to manage or to grow the business that is the reason they get to the show to get the finances from the shark which the people that are rich and famous that can give them capital. And then the Shark who offer and accept to do the business with them has a share of the income or profit of the business.
Sometimes finances will hinder us from progressing even though we have smart ideas and creative ability. But in our time there is no reason that finances hinder you from progressing for the reason we have many bank or credit company that we can approach if you have the ability. Though sometimes credit company they need collateral to borrow money from them or assurance for their money to get back.
But there are people that they succeed even though they don't have much capital at first. They are just being smart and knows handle the money very well. They just find resources that don't cost too much money and do it little by little until the business grows. These are the people that good at budgeting and know how to find ways to get through even their tough times which is a good way to do than having a credit that you can pay more interest.