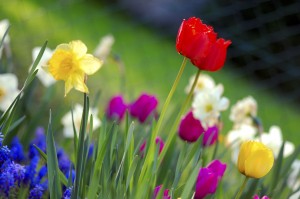 Gladly we have seen spring atmosphere now. We have three days of sunshine already here in Michigan. I have seen the buds of the trees comes out already so with tulips are starting to bloom again. After all the tornado's that hit southern part of America and leaving destruction of some families, some life had been lost, some houses and important things had been gone by that devastating tornado's then life goes on again.
Spring time refer to the season of the ideas of rebirth, renewal and re-growth. The trees, plant and flowers will back its life after the cold winter season that makes the plants frost and dormant and during spring time the plants comes back and grow again for me this is amazing.
Spring is the time were flowers blooms and birds coming back this the transition period between winter and summer and spring time is one of the four temperate seasons mostly people like spring this is the season that temperature is gradually warming up before summer comes. People are starting to clean loans, their backyard and start gardening or planting their tomatoes.
This is the time of thinking for their vacation for summer when the weather is starting to warm up thinking of going to the beach and outdoor activities. The kids they like this weather too, it's their time to play outside they can do bicycling, hiking, play in the park, soccer, golfing, baseball and any other active and outdoor activities. Hope you will enjoy and have a good time in your spring time activities.