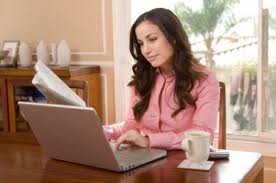 Many of us are looking for ways to increase our income level or just replace a dead end job that we dislike. This can be a very difficult thing to do because of the unemployment rate and every looking for a little extra cash to get by. What some people have been doing is working from home. Now I know there are a lot of scams out in the world today. But it is possible and many have found what works for them.
If you have internet access you may find what works for you by working online. Be careful though there are a lot of websites that claim to pay high wages for just a little time of work. Most of these are just scams and looking for you to pay $50-$100 for access to all the wealth and get rich quick tricks. These in my mind are just not good business and might even end you up in trouble with the law if you get caught.
If you are really looking for an online job or work that you can do from home you might consider looking at the list I have put together here. Now these will take a little work on your part. You will need to be creative with some of these jobs. But I will tell you they are legit and registered with the Better Business Bureau.
A Few Types of Work at Home Job

In addition to companies that typically hire employees that work from home, there are sites where you can find work at home job listings. Below I have listed a few that I have found to be legit and worth taking the time to look at.
LinkUp
Job search engine LinkUp.com searches only for jobs on company web sites, so it's a good way to avoid scams. Search using "telecommute" or "telecommuting" as a keyword to find legitimate work at home job listings.
SimplyHired.com Work at Home Jobs
Use Simply Hired's "telecommute" search options for find work at home job listings from job boards, company web sites, and other sources.
Work at Home Job Listings
Work from home job sites that include just work at home job listings.
More Work at Home Listings From Job Search Engines
Job search engine sites allow users to search by keyword and location. If you have specific skills (i.e. insurance claims, customer service, web design) such by those skills and terms like work at home, freelance, telecommute, etc.
Craigslist
Search for work at home freelance positions by entering "freelance" or "work at home" as a keyword in the search box on the front page of the site. Otherwise, click on the city that interests you and review the list of job openings.
Job Boards
Monster, CareerBuilder, Yahoo! Hot Jobs and the other top job boards all contain work at home job listings. It takes some work just to weed through the postings, but, they are there. Search using keywords like "freelance" "telecommute" "work from home" and "work at home" as well as by the type of work you are interested in. Again, be specific.