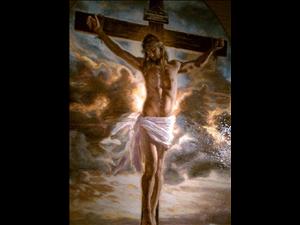 Yesterday was the last day of ArtPrize or ArtPrize Finale and they announce the winner that night. I bit the artist that join that competition are all excited who will be the winner artist that night. I heard the news that many people are coming up to witness that last day event and have a big party at Rosa Park Circle in the heart of Grand Rapids, Michigan. This is a lot of money if whoever win the ArtPrize imagine $250,000 for the winner.
The Crucifixion is the one who won the Artprize 2011 that night and the artist was Mia Tavonatti. She was lucky and happy that night but on the other hand she is sad also because her mother pass away that morning with pneumonia. It was very nice piece of art that she make and it was very meaningful.
She also took the second place last year 2010 and this year she got the first place out of 1,583 entries and it was decided and judging by popular vote. Mia Tavonatti's said that she stood everyday during the event in where the place of her piece of creation and she saw how people love and admire to her stained-glass work of art.
Next year she can't be a participant or unable to compete anymore but she can still be a fan to this event. And her work of art "Crucifixion" is now the property of ArtPrize. This will continue to be displayed in its current venue at DeVos Place, for several months and later it will be moved to another venue where people can see and appreciate it for years to come. That was an amazing event that was happening here in Grand Rapids, Michigan this year.