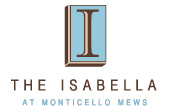 Are you looking to get a new start in life and want to live in a place that is designed for you and your pet? If this sounds like something you would like and I have your interest then you should take a look at the condos for sale in Alexandria VA.
These condos are known as Isabella at Monticello Mews and are the newest condos in Alexandria, VA and are designed with you in mind and a great place to live for those who work in nearby Washington, D.C. The Isabella condominium is an access controlled gated community with many features that most of us use and want in our everyday life. Things like a fitness area, a 25 meter swimming pool with a poolside residential lounge and cabana, outdoor sports courts and a Park–is a great place to live for people who love dogs.
When it comes to the inside of the Isabella condos you will also find that the layout and construction is elegant with its spacious kitchens, bathrooms, 9' ceilings throughout the entire condo, beautiful balconies and large living rooms and bedrooms. All built with you in mind and high energy efficient washers and dryers, dishwashers, furnaces and air conditioners. You can also choose to have your residence or new condo prewired with an office type work station for your computer with have a granite counter top.
The financing can be had by you today from one of the top lending firms in the lending industry Wells Fargo, MetLife, First Savings Mortgage Corporation or BB&T Mortgage. So there should be no problem with financing and getting you into the new condo of your choice. The new construction has begun for The Isabella at Monticello Mews. Call today to get you choice of the newest condos in Alexandria at 703.348.2277 to schedule a private tour of our model!