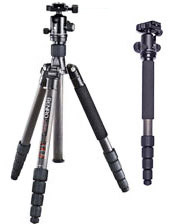 Cameras and photography have always been a favorite past time of mine as a hobby. But the more I get into taking pictures I am realizing that it is not just for fun anymore. Taking pictures could be considered by some people as an art or it could be a great way to catch and preserve memories for the future. This could also be for those looking to get into sales and advertising.
No matter what your reason is getting a quality shot is what it is all about. In order to accomplish this you need to make sure your equipment is also of decent quality. This is why I started comparing my camera equipment. Things like my camera tripods was an item that I really did not think mattered but I was wrong. When I started doing the research I found that the Benro is one of the best brands for camera tripods available.
With the Benro camera tripods I found them not only easy to use, they were built strong and durable while being light weight and compact to carry. They are constructed of carbon fiber and aluminum material and are one of the most versatile camera tripods available in today's market.
Benro has just introduced into the market as a new camera tripod which they have named the "Travel Angle". The Travel Angle is transfunctional, this also comes in the CF twist lock style and the AL twist lock style, while being adjustable in height. This will make it compatible with almost any brand of camera or video recorder and for almost anyone. This will make almost any photograph project you may have seem effortless. You should take a look at their quality tripods today, so you could be taking those great shots for tomorrow and for a have them for a lifetime.