This is a Sponsored post written by me on behalf of MyTies. All opinions are 100% mine.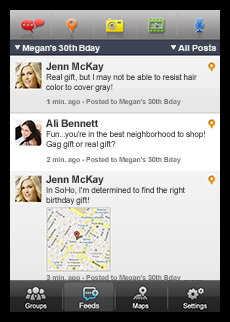 Social networking has become one of the fastest growing areas of the internet. So why not be able to social network using your iPhone? This is now available thru an easy to use application called MyTies, with this application you can stay in touch with all your friends and family right from your iPhone .
This mobile iPhone app lets you connect privately to just one of your contacts or you can use the group feature and create private groups that you can share things with at the same time. As a bonus feature you can create multiple private groups all in a structured manner that is easy to use.
Now you are thinking what makes this different from the other social networking applications that are out there for you to choose from. For one you are the only one that gets to invite the people you want to communicate with, so not everybody in the world gets to read or see what you are saying.
This means all your posts are private and are between you and the person or the persons in the group that you sent the post too. The MyTies.comapplication also allows you to share photos, video, text messages as well as posts. So this makes MyTies a very versatile application and different from the others. As another bonus, if you include the promo code "myprivacy."
Entering this code will give you 20 more 'Invites' within the app, giving them the opportunity to connect with more friends, family, etc. Privacy is very important to me, so MyTies is the application for me and it is totally free. Hurry and sign-up for your copy today. The application will be available for download starting November 3, 2010.