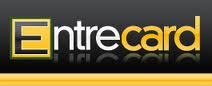 Having an online business or making money online you need some traffic to your websites or even your blog. The more people's visit or the more popular your website is the more you can generate money. But the people that is new to blogging world or just started to build a website don't have any clue how to generate traffic and here is how Entrecard might help you.
How it works? It is a free advertising network and the core of our business is to help online business increase traffic to their site and network especially when you don't have an extra budget to pay for advertising.
You need to create a widget into 125×125 cards which you can display on your site.
You can have 300 dropping to earn the points and you can do it less than 300 but this depends upon your time or your desire.
The more dropping or visits the more visitor traffic to your websites.
You can earn points when somebody wants to advertise to your website and you can use or spend those points to advertise to other website as well. It is like give and take.
This brings you a lot of free traffic and friends to your websites.
If you don't want to do the dropping you can also buy points for $10.00 to advertise.
I know some people or bloggers don't like much with Entrecard for the reason that you have to do a 300 dropping every day in order to drive traffic and this takes time. Also the people that visit your websites are not targeted visitors or potential visitors because they just drop and go.
Google doesn't like this idea of drop and go and this might affect you search engine rankings. Google wants potential visitors to your websites. But in my own experience I been using this Entrecard almost three years now and I am still doing it and I am don't see anything wrong with it. I know it takes time but we can get free traffic and free of charge so why not give time if we don't have budget for advertising.