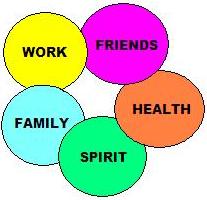 I just want to share this to my families, friends and my readers the speech made by the CEO of Coca Cola. This really hit and touches me and I think we need to know about this. We need give time to the things that really matters and most important to us. Good advices and reminders are very important. This is will serves as a guide and ideas in order to have better future and tomorrows. This might help us prosper on whatever field, circumstances or jobs that we are involved with.
This is his short 30 second speech by Mr. Bryan Dyson CEO Of Coca Cola Company "Imagine life as a game in which you are juggling some five balls in the air. They are Work, Family, Friends, Health, Friends and Spirit and you're keeping all of these in the air.
You will soon understand that work is a rubber ball. If you drop it, it will bounce back. But the other four balls such as Family, Health, Friends and Spirit are made of glass. If you drop one of these, they will irrevocably scuff, marked, nicked, damaged or even shattered. They will never be the same again. You may understand that and strive for it."
Work efficiently during office hours and leave on time. Give the required time to your family, friends and have proper rest. Value has value only if its value is valued.
His short speech is very valuable to me it gives me much idea on life. I know we have different views of life but sure this speech give me much understanding. We need to balance our life and value the things that really matters and we need to know how to priorities things in life.