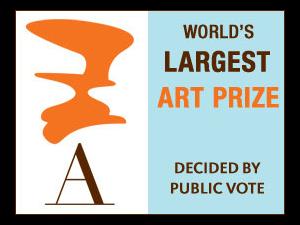 It was on September 21st is the day of the opening of the ArtPrize here in Grand Rapids, Michigan. I remember that it was a nice day that day. Luckily they have good weather when they open the ArtPrize activity. And if you haven't there yet you can still visit till October 6 this Thursday. I have seen in the news that there are many people attending and roaming around watching the ArtPrize that day.
By the way ArtPrize is a radically open competition. Open to any artist in the world who can find space. Open to anybody in Grand Rapids, Michigan who wants to create a venue. Open to a vote from anyone who attends. Designed as a new kind of event, ArtPrize is a platform on which artists can experiment, collaborate, and explore new ideas.
This year is the third year of ArtPrizeand it has become an unexpected phenomenon. Part arts festival, part social experiment, part civic project, the event overtakes an entire city bringing visitors in the hundreds of thousands into the area.
Unlike any other event, ArtPrize gives away the largest cash prize for an art competition–$250,000 to the winner, $484,000 total. The winner is decided solely by a public vote. Venues and artists register and find each other through artprize.org. (ArtPrize organizers do not pick any artists to exhibit.)
We been there last Saturday and we did have fun watching those Art that the Artist had made for the contest. We did enjoy watching and we have fun walking, this also gives us something to do in the weekend. If you live in Grand Rapids Michigan or live nearby you can still watch and visit in downtown Grand Rapids to experience and look the Art that they made in this activity till Thursday of this week.