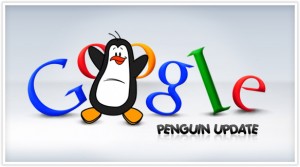 Some webmaster, internet marketers, small businesses and bloggers are not happy with Google. The Google Penguin changes they made have affects so many. Most of the page rankings are going down and some websites loses their traffic. This cause loses of some sales & income as well and it loses our opportunity of having a work. This is not a good thing for some people it is really a mess when Google implement their Google Penguin.
There were some website that has been penalized and they are not happy about it. I understand Google's point that they want to clean up some of the garbage on the web but this upset so many. At some point, people are also right that Google want the businesses to purchase advertisement from them like their Ad words.
They get rid of the paid back linking if you are using those to get traffic to your website you will surely affected of the changes that they have made and this doesn't work anymore. Every time algorithm update or changes watch out for the results. There are people that are happy and some are not happy at all. This depends which side of a coin you are in, if you have good quality content website you are in the good side or the winning side. If you're not you will surely upset and disappointed about this Google Penguin changes.
If your business is depending only with the traffic of your website then you have a problem every time Google has changes in their system. It is better that you will build or generates business through word of mouth, repeat customers and quality site. Without those mention you don't have stable business online. Google wants good article and valuable content to supply people in the web and also they are getting strict and a pain with the websites nowadays and they are also cleaning the bugs or not quality website on the web.
Business or work online must adopt what Google required in order to stay in business online and to have a stable income. If you can't have the technique and knowledge about websites and follow what is required of Google you will surely can't stay very long in your business or work online. Make sure you have the patience and knowledge to generate good business and income online so that whatever Google changes and new implementation you're not affected by it.