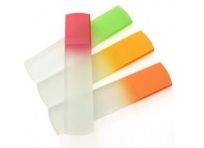 Today I came a crossed a website that specializes in glass nail files from Mont Bleu. This Mont Bleu is a Czech company that produces not only nail files but also tweezers, nail scissors, bag holders, mirrors and much more, all beautifully decorated with Swarovski crystals, semi-precious stones and they are also hand painted.
All are made with the best traditions of Bohemian of Czech Republic strained glass, and decorated with original Swarovski crystals. They are beautiful tools to keep on your vanity or in your makeup case. The thickness of the glass file is nice, the weight is just right and the nail files seem very sturdy. The edges of the file are nice and smooth, so as for cutting yourself you do not need to worry. These scrapers will gently remove hard skin and calluses, without any damage.
I love the crystal decorated versions of their callus removers, which come in beautiful velvet cases and make great gifts just in time for the rapidly approaching holiday season. I am also a fan of the classic style, which comes in a variety of colors. Also this is a perfect alternative to your old pumice stone which are not very durable and pose high hygiene problems.
At the Mont Bleu e-shop they offer other tools and accessories to keep all girl or ladies looking and feeling beautiful. You can also choose from a wide assortment of cosmetic mirrors, makeup brushes, hair brushes, hair pins, key rings, business card holders, letter openers, jewelry and so much more. It is hard to believe you can find so many different items all in one place at an affordable price that anyone can afford. Right now you will find many items on their site available with a 15% discount, so you will not find a better price for nail files anywhere.