This is a Sponsored post written by me on behalf of ampm for SocialSpark. All opinions are 100% mine.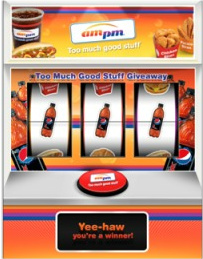 I know online games is popular these days and if you like to win things playing online games then you should definitely take a look at ampm's new "Too Much Good Stuff Giveaway". It not only is a great way to pass the time when you have nothing else to do, you also have a chance to win great items.
Just by visiting http://www.facebook.com/ampm and registering you can then play their Instant Win Game. The Instant Win Game is a virtual slot machine that you play online and if all three reels match each other you will be a winner of the giveaway items like Pepsi Max or a Corn Dog.
Also by registering and playing the Instant Win Game just one time you are automatically entered to win the Grand Prize which is a trip to Las Vegas, Nevada. Or you could be the winner of one of their Periodic Sweepstakes prizes and win such items like an Apple iPod Nanos, an Apple iPod Touches, an Apple iPads or an Apple MacBook Air.
All this could be yours just by playing the Instant Win Game and taking a chance and giving the virtual slots a spin. And when you are done their and need a refreshing drink you might take a moment and stop by ampm's Thirst Oasis, which has up to 24 flavors of different fountain drinks, a choice of crushed or cubed ice, and a fresh condiment booth. It is well worth it to visit this site to see what's going on.