This is a Sponsored Post written by me on behalf of NAVTEQ. All opinions are 100% mine.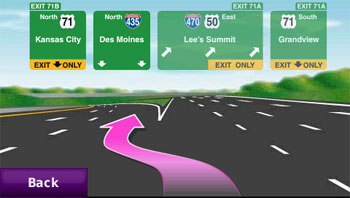 Vacation season is coming and people are getting anxious to start taking road trips to various places across the country, but before you embark on your journey you should make sure that your GPS system is updated with the latest map information. For people traveling, you want to make sure the newest restaurants, gas stations and other places of business show up in your map, so I encourage you to visit www.MapUpdateMonth.com and make sure you are running the latest map software before beginning any summer vacation journey across the land.
I know that I had an older, more than slightly out of date GPS unit. While trying to drive out of Grand Rapids one day it tried to direct me the wrong way away from the freeway, by using one of the more main routes thru the city area.   If I didn't know the area and didn't know that the turn my GPS told me to take was wrong, things could have ended up rather badly. It's an easy mistake to make. I often pass by that corner and see others looking lost and trying to turn the wrong way.
You can go to www.MapUpdateMonth.com and get the latest NAVTEQ maps to make sure you have the most reliable data and information on your GPS device, whether it is an in vehicle GPS system or a portable Garmin GPS device. Below is a list of navigation units that they are offering updates for.
NAVTEQ offers map updates for the following car brands:
Acura
Audi
Chrysler
Dodge
Ford
Honda
Infinity
Jeep
Land Rover
Lincoln
Mercedes-Benz
Mercury
Nissan
Volkswagon
Volvo
You can also find software for your Portable Garmin GPS at:
Amazon.com
Best Buy
Costco
Garmin Direct