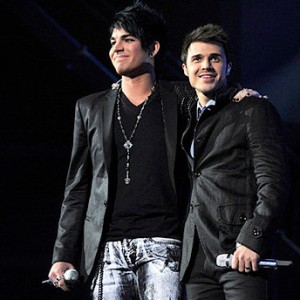 Guess who will be the American Idol tonight? Adam Lambert nearly blew our minds and his own head off blasting the final note of Sam Cooke's "A Change Is Gonna Come." His performance was a reinvention that emphasized the song's power in every sense of the term. If Fuller was aiming for a wink-wink commentary on the cultural significance of Lambert's potential Idol victory, well played. Lambert scored first by emerging from a fog to reprise his cover of Gary Jules' version of Tears of Fears' "Mad World" in a Lestat cloak that reminded Randy of Twilight and Sheffield of Purple Rain.
While Kris Allen turned out a soulful rendition of "Ain't No Sunshine" at the piano aimed straight at the jugular of tween America and everyone else with a pulse. DioGuardi added if Allen's performance "doesn't move you, there's something wrong with you." Allen went for a hacky-sackin' acoustic-jammin' feel for Marvin Gaye's "What's Going On," which Cowell said undermined the song's urgent message and the night's weight. DioGuardi, however, felt Allen is ready to "bring change."
So you need to vote your idol if you want them to win or will just watch and see, for me it doesn't matter at this point who gets the title. They are both very good and talented but in different ways. So we will just wait and watch tonight don't miss it.