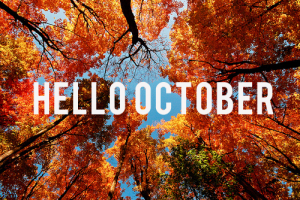 It seems like yesterday that I am writing an article about welcoming for the month of September and Fall season, now it is already the month October. Time is flying like crazy but I guess time flies when we are busy. I could not complain what life has to offer even there is ups and down but we manage to endure and find solutions to get through it.
Hello October! We have good weather to start this month of October. We can see the colors are changing around us here in Michigan. We can feel and enjoy the gentle breeze and cooler air of autumn season. I know we have beautiful colors of trees around us this year and we can really tell that Fall season is here.
Every year of this month we usually go for apple picking and I don't know if we can pick this year. I have heard that we don't have a lot of apple this year due to the drought and hot summer and they said apple is very expensive. But we are talking about it to check on the place or farm that we go to if we can still pick apples there.
We have many fun time activities during this month October here in West Michigan. We have ArtPrize the world largest art competition which near in our place. This makes the place and people busy, checking on what's on the event. There are many fun time activities that we can go to during this month before winter starts.
Our life will get busier especially the holiday season is fast approaching. We will start thinking of our Christmas shopping again and we just take it easy and one step at a time. Three months from now the year 2012 will be over and we will face another year of 2013 but we have to be grateful of what life brings to us.