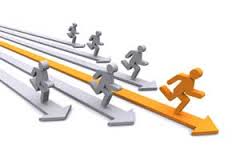 We have always seen competition when business is getting big and successful. How would you react as business owner or is this help or help with your business? I think if you are a business owner you should expect competition and you have to be ready for this situation.
I know that it is unfair that other people will compete especially if you are the one doing it at first.  Most of the situation this will surely hurt the business if you have competition. But if you have more capital or money you can easily compete them without hurting or affecting your business.
Capital Or Money Really Matters
·         You have the possibility of making your products more reliable or higher quality when you have the money to do it.
·         You can easily invest money to attract customers like by giving them discounts or deals to attract customers or buyers.
·         Make your store or business more accessible and convenient for the customer or client.
·         You can hire expert people to make your products, services or business better.
Make Product And Services Better or Best
People will take consideration where to buy and choose which is better or best for them when it comes to product, prices or services of the company. Certainly, they will prepare to do business with the high quality products and at lower prices, also it is better to have business when they treat their customer very well.  Product, prices and services really matters to customers or clients when it comes to business.
 Competition Help The Price Value To Go Down
Most cases competition is really good and this most favorably to the customers or clients. The good thing about competition is, this help the prices going down to maintain customer or buyers and to continually patronizing their products, services or business. Competition shows good results and help us economically.