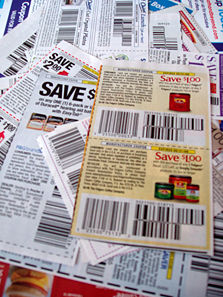 All of us like to save money and get a great deal on the things we need and use every day. This can be difficult in today's market with the economy the way it is, but it is still possible if you are organized and willing to sacrifice on brand name once in a while. This is also known as extreme coupon saving and if you're on a tight budget, love hunting down bargains, and you're extremely well organized, extreme couponing might be for you. You will need to be prepared to substitute items for your usual brands and you'll also need to have the time to search for the coupons that are useful for your needs.
The first step is to decide if extreme couponing is going to fit your personality and lifestyle. For this to work you will need to be well organized and methodical. You will need to go through the coupons daily if possible to find the coupons you might use.
Second you will need to read all the fine print of the coupon or special to make sure you understand how the coupon works to avoid problems at the time of purchase. Be aware that some coupons or specials only work on certain days or when you purchase a certain quantity. This can be very frustrating for some, yet can work out to your benefit later if you are prepared.
Third remember to make not of the place the coupon or special is being offered by. Some stores do not take competitors coupons and this can be embarrassing for you when you get to the checkout lane.
Fourth if you have the internet you should use price comparison websites to show you where the cheapest place is to find your item. This will save you time and gas in driving all over town.
Fifth make sure you organize your coupons and file them so you can find them quick and easy. If it is not easy to find you will not use the coupon.
Sixth plan your meals ahead of time and around the coupons or specials that you have found for the week.
Seventh you and your family will need to be flexible on the items you buy if you really want to save.
Eighth remember to only buy what you need. It is a trick the stores use to get you to spend more by buying in large quantities.
I hope this helps some when deciding if you want to become an extreme coupon saver. It is not for all but it can save money for those willing to try.