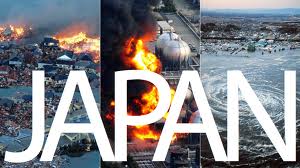 Have you not wondered why there are many of calamities or disaster such, earthquake, wars, fire, Tsunami, explosion and many others that happen in our today? We just have earthquake in New Zealand and lots of people lost love ones now another 8.9 strong earthquake that hit Japan yesterday with the tsunami.
I marvel sometimes and make me think maybe because most of us are thinking or we put on much attention on material or temporal rather than spiritual matters. But I am not blaming anybody or pointing fingers but I think we should think about this. I know there are also good people that are included or affected to these calamities. But all things that happen in this world there are reason and purpose that only God knows.
I just feel sorry for the Japanese people right now they have big hit with these calamities from earthquake, tsunami, leak and explosion this is really a big problem to deal with and big challenges for the Japanese. We have to pray for the affected people and there are still people also that are missing.
In the news that I have read said that this earthquake was the fifth most powerful that hit the world on the past century. This surpassed the Great Kant earthquake of many years ago of Sept 1, 1923 which had a magnitude of 7.9 and killed more than 140,000 people in Tokyo, Japan area and this time it is 8.9 in magnitude but we don't know how many people and damage because there are still people that are missing and the rescuers are still working on.