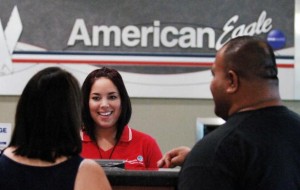 Act fast when a problem occurs. Gone are the days of airlines actively assisting waylaid passengers. If your flight ends up canceled or delayed, get in line to speak with an airline representative, but don't just stand there. Use your cell phone to call the carrier's toll free number, odds are the person on the phone can help you secure another flight quicker than a gate agent who's being inundated by dozens of cranky passengers. And know your rights.
The airline will rebook you when a flight has been canceled, it just might not be for the same day.
In the event that the airline sells too many seats and you get bumped, you are entitled to the cost of your one-way fare, up to $400.00. This is according to the Department of transportation, providing the carrier can't book you on a flight scheduled to touch down within one hour of your original arrival time.
When you're delayed due to a snafu caused by the airline, like a mechanical difficulty, check the departures board to see if any other outbound flights will reach your destination faster. While most airlines won't voluntarily offer assistance, they frequently will try to accommodate passengers on another of their flights (or, occasionally, on a competitor's) when asked to do so. If bad weather causes the holdup, chances are it's affecting every other flight as well, so you just have to sit tight. And while we're not against trying to obtain meal end hotel vouchers, alas they seem to be a thing of the past.