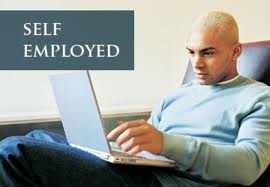 In our times right now it is not hard to work for yourself or being self-employed. The availability of the technology helps a lot to achieve this and it is not hard to work for ourselves anymore or being self-employed especially if you have the knowledge and skills that most of the online work or business are offering.
We just need time and effort to find those legit websites that are offering those opportunities. If you spend time looking and searching you can really find it. You just need to keep on looking until you found the best that suit your ability and knowledge.
If you are a business minded person you can also establish business online. You can also sell stuffs in the internet nowadays and without any boss anymore.  Most of the people that knows how to use computer or use the internet might already know about selling stuffs through eBay or Amazon and many other legit website that doing this kind of business.
I have found out that being self-employed is less stress than working in a company if you know how or you have the ability to do it. Your income also is unlimited and this depends on your time and your ability and you don't have to deal with other people as well. I know it takes time and effort at first but in the long run you will learn and earn with less hassle and stress.