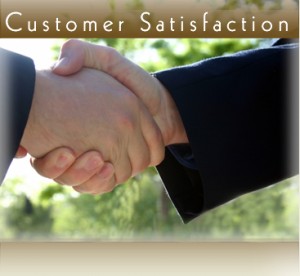 We have car problems this week and we went to fixed our car this morning and have noticed that the place we go to they have more clients than the other place that we go for service before.  One of the reason that they more clients is they treat their clients well and they do excellent job with their work.
If you have business you need to make it sure that your customer is happy and satisfied with the work that you have done for them and by doing so, you definitely have other job from them again. Also, they might refer you from their friends and families that need your expertise.
Even if you spend thousands of dollars to do and advertise of your company and if you don't do a good job with the services and business you have you will still fail. You might get people to come to you at first but they will not come back again if you don't treat them right and if you don't have good service at all.
Customer satisfaction is very important to get your business going and the word will spread around if you treat your clients or customers right. Word of mouth or referrals is very helpful to your business and effective to get clients. Take pride of you work and treat people right and this will definitely give the assurance of 100% business success.