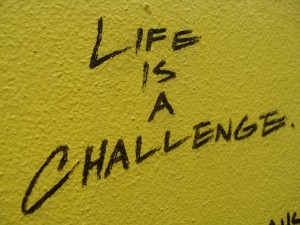 Human as we are we like motivation, we need somebody pushing us or inspired us to do something. But there are times in life that we want to accomplish something and people around us think that we can't do.
It is sad and very discouraging for us but if you think in positive way, it will challenge you and you want to prove them that you can do it. This happens to me, when I was young I want to finish college and my parents can't able to support us.
My mother and my aunt said that we can't finish college because we don't have money to support us. My father is very positive, he said we can because he said he will find away to support us in school as long we are interested  to go school. Time comes that my father cannot support us anymore because he is already old but because of my desire and with Heavenly Fathers help I did finish college.
I know when we have the courage and desire to do it, we can accomplish our goals and whatever you desire in your life. Especially when you work hard for it so that can achieve it, our life is not easy but it is worth trying. Sometimes life is challenging but there is always a way to any obstacles and when we overcome all of these, it is really rewarding and you will be proud to say that you did it.